Return to Headlines
Achieving Goals In HCCTC Adult Education
Achieving Goals In HCCTC Adult Education
Lexington, Miss. — The Career and Technical Center (HCCTC) of Holmes County Consolidated School District held its 2019 Adult Education Fall Completion ceremony on December 17, 2019. More than seventy adult learners participated in the fall classes. The Fall 2019 Course Catalog included Administrative Office Assistant Training, Advanced Computer Literacy, Autobody and Paint, Basic Computer Literacy, Medical Billing/Coding ICD 10, Residential Wiring and Welding.
Frank Kimes, retired Career Tech director of Holmes County School District, served as the keynote speaker for the ceremony. Mr. Kimes shared with the completers and their guests the significance of being continuous learners and remaining relevant in this ever-changing workforce market. He said, "You are never too old to learn." Completers and guests were encouraged to continue to take advantage of the short-term and low-cost programs offered at the Career and Technical Center.
Shintri Hathorn, Career Tech administrator, thanked their partner, Holmes Community College-Workforce Development (Mrs. Mandy Burrell), and Lexington Mayor Robin McCrory for their continuous support. Ms. Hathorn also shared that the Career Tech Center is consistently working with local industries and community stakeholders to determine their needs regarding labor workforce skills. By regularly studying business/industry needs assessments and the MS WIOA data, she is able to structure the adult education class offerings, as well as the high school CTE offerings, around the needs of the surrounding workforce sector. "Our goal is to ensure that we are providing our adult and secondary students with both marketable and currently trending skills to ensure that our community is workforce ready," stressed Hathorn.
Course offerings are revised to meet the needs of the workforce and the interests of the community. Ms. Hathorn shared that "This fall, we added two additional programs—Medical Billing and Coding/ICD 10 and Advanced Computer Literacy—to our adult course catalog and they both were well received." The prerequisite to enrolling in the Medical Billing/Coding program was Medical Terminology, which was offered in Spring 2019. "This spring, we are planning to offer Medical-Billing and Coding CPT, so that the completers of ICD 10 will have dual skills," she asserted. By completing both billing and coding classes, completers will be prepared to meet the coding needs in any medical or insurance office.
James L. Henderson, Superintendent of Schools, is committed to College and Career Readiness and sees the Career Tech Center's Adult Education program as a logical extension of the high school program. "We are pleased to offer these courses in order to equip adults with skills and expertise for the always-changing workforce needs of the community."
Residents of Holmes and surrounding counties are encouraged to prepare for their career and personal goals by enrolling in the CTC adult education programs. Students travel from as far away as Madison and Sallis, MS to participate in the classes. Interested persons are asked to contact the Career and Technical Center (formerly Vo-Tech) at 662-834-3052 for more information.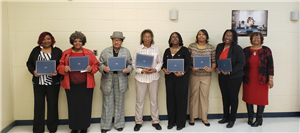 Computer Literacy
Left to right: Claudine James, Emma Fondren, Leona Fields, Sarah March, Janice Grant, Sounya Hollins, Sharon Patton; Instructor Reather Anderson Not Pictured: Mary Garrett

Residential Wiring
L–R: Shelia Redmond, Darien Griggs, George Lacy, Mac-Chris Sallis, Clyde Witt, Demarco Witt, Geon Boone, Marvin Noel, Hollis Greer, Kerry Shavers, Donna Brooks and Instructor Michael Kirkwood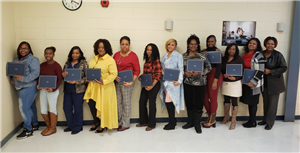 Medical Billing & Coding/ICD-10
L-R: Tionna Colbert, Laketta Cole, Tonia Williams, Verniece Brooks, Corissa Quarles, Alisha Russell, Chris Williams, Miriam Davis, Wendy Robertson, Yolanda Meeks, Gwen Chambers, and Instructor Sharon Williams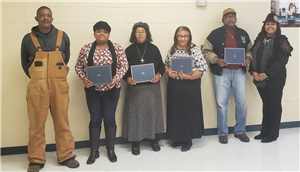 Advanced Computer Literacy
L–R: Jerry Benson, Ternishia March, Fannie Jean Archer, Mary Ann Archer, Charles Simmons, and Instructor RaShunda Archer. Not pictured: Alexandrea Epps, Vernelia Lowe, Sandra Jordan, and Tina Upchurch
Welding
L-R: James Snow, Sylvester James, Joshua Galey, Ka'Niya Williams, Samuel Hogsett Sr., Anthony Junior, Timothy Gibson, and Instructor John Sample. Not Pictured: Arthur L.Newman and Damien Webster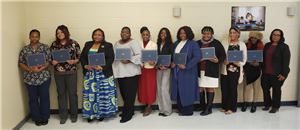 Administrative Office Assistant
L–R: Ieaha Washington, Arkeia Edwards, Shandra Brown, Shyla Wallace, Christine Grant, Lartesia Griffith, Mercedes Malone, Erica Wright, Jakal Wheat, Jennifer Williams, and Instructor Bonita Spurlock